Baba Ramdev Claims That Patanjali Coronil Will Cure COVID-19 Patients In Seven Days:-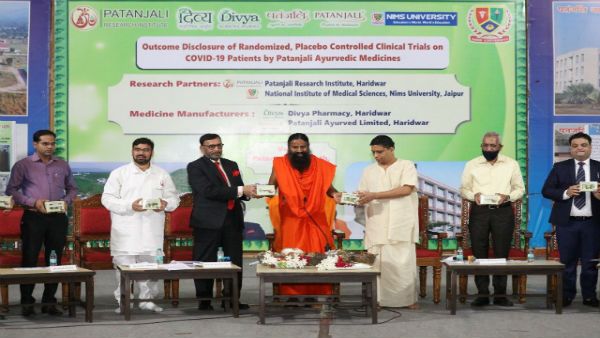 Patanjali Coronil Will Cure COVID-19 Patients In Seven Days:-
Yoga guru Baba Ramdev claims to treat Covid-19 with Ayurvedic medicine. For this, a tablet named Patanjali Coronil has been launched. Ramdev said that Coronil has Giloy, Tulsi and Ashwagandha which enhance immunity. Baba Ramdev said that Patanjali has prepared this Ayurvedic medicine for the treatment of dangerous virus. He launched this drug on Tuesday in Haridwar. He informed that the patient recovers within five to 14 days after taking this medicine.This medicine also protects from chronic diseases.
During the launch event, Yoga Guru Baba Ramdev and Patanjali CEO Balkrishna presented the results of the clinical trial of this medicine. This drug has been prepared jointly by Patanjali Research Institute and National Institute of Medical Science (NIMS), Jaipur. Divya Pharmacy and Patanjali Ayurved Limited in Haridwar are producing this medicine.
Clinical Control Trial On 100 Patients:-
Launching the Patanjali Coronil, Yoga Guru Baba Ramdev said that the whole country was waiting for the corona virus medicine, so finally we have prepared the medicine. He said that this drug has been tested on 280 patients and all patients have cured. Baba Ramdev told that after taking this medicine, the patients did not face any problem and death rate is 0%. He said that 69% of corona patients recovered after consuming the medicine in three days. At the same time, 100 percent patients were cured after seven days.
Corona Kit Of 3 Medicines Will Be Available For Rs 600:-
The corona kit that Ramdev has launched, in addition to coronil, it also contains Swasari vati and Anu Taila. Ramdev says that using all three together can eliminate corona infection and prevent epidemic. This medicine can be taken twice a day in the morning and evening. This kit will be available for 600 rupees.
Swasari Cures Cold And Cough All Together:-
Ramdev said that giving Swasari is beneficial in the lack of oxygen in the body. This medicine also deals with cold and cough. It is made up of 16 herbs such as licorice, honey, ginger and basil. The Anu Taila has to be put into the nose. It also protects against corona.
Corona Kit Will Be Available In Patanjali Stores In Seven Days:-
Ramdev said that on next Monday, he will launch the Order-Me app, so that people from all over the country will be able to get the medicine sitting at home. Order will be delivered in 1-3 days. Along with this, medicine will also be available in all Patanjali stores in the next 7 days.