Instagram Launched A Video Making Feature "Reels" In India:-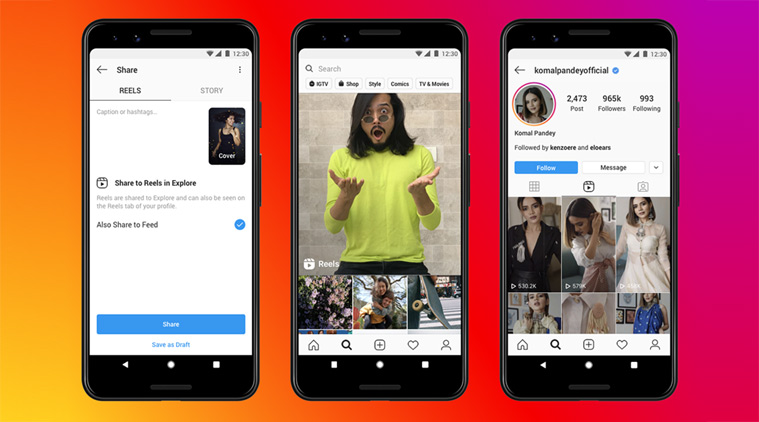 Instagram has launched a 15-second video making feature in India on Wednesday as a TikTok alternative. Let us tell you that the new feature "Reels" of Instagram works like the short video platform TikTok. Users can make 15-second videos through "Reels". This video can be edited with audio files or music tracks.
Instagram Is Seeing This As An Opportunity For Creators:-
Like TikTok, Instagram is seeing this as an opportunity for creators. Instagram is already in partnership with Creators and at launch, users will first see it through the page of influencers like Amy Virk, Komal Pandey, but Vishal Shah, the VP of Instagram product, is expected to get the next superstar in India through the Reels.
Reels Will Also Appear In The Section Of Instagram Stories:-
A 15-second short video can be made via Instagram Reels. The background of the video can be changed, the speed can be controlled just like TikTok. TikTok 'Duet' feature will also be available to users in this service. Reels will also appear in the Instagram Stories section. After making the entire video, users will be able to share it in their Instagram stories. Apart from this, users will also be able to send this video directly to their friends. Instagram has partnered with Saregama in India for music in this feature. In such a situation, there is no problem of copyright with music.
Government Banned 59 Chinese Apps, Including TikTok:-
This feature of Instagram is coming at a time when the Indian government has banned 59 Chinese apps, including TicketLock. After this ban, these apps have also been removed from Google Play Store and Apple App Store. People are very fond of the Chingari app in Tiktok's option. Over 2 crore downloads have been made in a short time.