Red Tape International Private Limited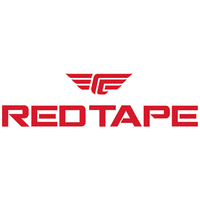 Red Tape International Private Limited is an Indian footwear company based in India. The company has its head office in Kanpur, Uttar Pradesh, India, and it was established in 2006. RED TAPE is one of the famous Footwear, Apparel, and Accessories companies in India. RED TAPE is a well-known company providing footwear, apparel, and accessories services in India. It deals in shirts, t-shirts, trousers, denim, sweaters, and jackets, etc. Below, you can check the contact information of RED TAPE.
Red Tape Company Details
Full Name: Red Tape International Private Limited
Type: Public
Industry: Footwear
Establishment Year: 2006
Founder: NA
Headquarters: Kanpur, Uttar Pradesh, India
Key People: NA
Parent Company: NA
Subsidiaries: NA
Red Tape Social Profiles
These social media profiles will help you in getting the latest updates. Follow Red Tape's social media profiles to keep yourself updated with the latest information.
Red Tape Official Website
www.redtape.com
This is the official website of the company you can visit here to get more information. It is also the official online store where you can buy clothes, shoes and accessories.
Red Tape Office Locations In India
Through the given information about Red Tape offices, you can get support from the customer care department. Here, you can check the head office address of Red Tape, the contact number of Red Tape corporate office India, as well as Red Tape office location.
Red Tape Registered Office Contact Information
| | |
| --- | --- |
| RED TAPE Registered Office Address | Red Tape International Pvt. Ltd., 14/6, Civil Lines, Kanpur 208001, Uttar Pradesh, India |
| RED TAPE Registered Office Phone Number |  +91-512-2530775, 2530676 |
| RED TAPE Registered Office Fax Number | NA |
| RED TAPE Registered Office Email ID | NA |
Red Tape Corporate Office Contact Information
| | |
| --- | --- |
| RED TAPE Corporate Office Address | Red Tape International Pvt. Ltd., A-7, Mohan Co-operative Industrial Estate, Mathura Road, New Delhi 110044, India |
| RED TAPE Corporate Office Phone Number | +91-11-40959554 |
| RED TAPE Corporate Office Fax Number | NA |
| RED TAPE Corporate Office Email ID | NA |
Click here to check the contact information of Bata